take the
MADD pledge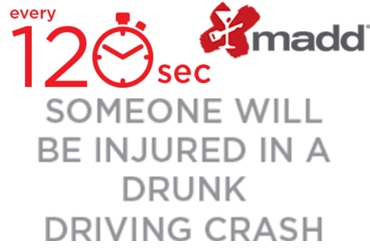 On September 5th, 1980, Mothers Against Drunk Drivers (MADD) began a mission- "To aid the victims of crimes performed by individuals driving under the influence of alcohol or drugs, to aid the families of such victims and to increase public awareness of the problem of drinking and drugged driving." In 2015, that mission changed to "end drunk driving, help fight drugged driving, support the victims of these violent crimes and prevent underage drinking." From its humble beginnings 35 years ago, MADD has evolved into one of the most influential and widely supported non-profit organizations in America. For more, go to madd.org.
You are not
alone
April is Sexual Assault Awareness month. The Rising Center, located on Morton Boulevard, provides an array of services to adult and child victims of sexual assault and abuse in KRCC's eight county area. In doing so, it works closely with local health service agencies, criminal justice systems, and social service agencies to ensure a coordinated system of reliable and appropriate care. To find out how to report sexual violence, become a volunteer, or to take the pledge against sexual and domestic violence, visit The Rising Center's site.
"Crime prevention, detection
and Deterrence are the keys
to prevent becoming a victim"
Featured Cold Case
In 1983, 20-year old Debbie Eckles was found unresponsive inside of her home located in the Walkertown section of Hazard on Turner Avenue. She was stabbed multiple times. It was very obvious from the beginning of this investigation that Debbie personally knew her killer. We wish to solve this case for multiple reasons. Chiefly of which, to bring closure to Debbie's living family members. Even though over 30 years have passed, we believe that the person responsible for Debbie's murder is still out there and may even be reading this statement. NOW IS THE TIME TO BRING CLOSURE. If you or anyone you know has information regarding this crime, you are encouraged to contact the HPD directly or submit an anonymous tip.
Read more
606 436-2222
800 HIGH STREET
HAZARD, KY 41701
You may also contact us via email at mail@hazardpd.org or by facsimile- 606.439.0956
Follow us
Over the years, we have relied on you to help us solve cases and recover property. An abundance of this success has been accomplished by tips given through social media such as our facebook page. We encourage you to visit our social sites frequently and, as always, any help you can provide is truly welcomed and appreciated. Thank you.